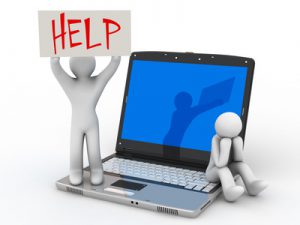 We ask you to please submit a workorder in rSchools if you need tech support.  We will be able to provide the best support technician for your specific need as quickly as we can.  If this isn't possible then please call our support line.  This is the same system the maintenance department uses as well.
Click Here for rSchools Support
Parents or students looking for support need to contact our Chromebook Support; not the IT Department support line.
Click Here for Chromebook Support
IT Department Support – Extension 1200
or 541-267-1335
Typical Hours – 7am-11am, 12pm-4pm (M-F)
CBPS E-mail Accounts
What are they? Why do I have two accounts?
@coos-bay.k12.or.us
Microsoft Account
Your official district email account
Official district communications done through this account.
Sign in to your district issued windows laptop or desktop with this account
Also can sign into online platforms such as: Office.com, Online Email, OneDrive, SharePoint
@cbk12.com
Google for Education Account
Domain for our student accounts.
Sign in to Chromebook or CloudReady device with this account
Sign into Google Meets and your Chrome browser with this account.
Online services such as: Gmail, Google Drive, Google Workspace, Google Classroom.
Both of these accounts are for official use and school purposes.  They are not to be used for personal use.
Cyber Attacks on the Rise!
We have received multiple alerts from different agencies about increased cyber attacks that have started up since the conflict in Ukraine.  Russia and other agencies have increased cyber attacks not only in Ukraine but against everyone.  K-12 institutions for some reason are a prime target for these criminals.
Please be extra cautious with your email and while surfing the internet.  Be very careful when on websites and only downloading things you feel are for sure safe.
We will NOT be doing any of our email phishing tests while this increased level of threat is present.  If you receive a suspicious email please do NOT forward that email to anyone, including the IT department (this can still trigger something).  You can use the report tool or take a screenshot of the email and send it to us.
Beware of Phishing Scams!
What are phishing attacks?
Phishing attacks are any online attempt to get you to give up pertinent information that could lead to theft of credentials, financial loss, or other consequences.
What are some popular methods of phishing attacks?
Hackers like to send spoof emails, set up fake websites, and try to contact you through social media.
While a lot of the world came to a standstill in 2020, the one thing that didn't slow down was phishing attempts on businesses.  And it's carried on well into 2021.  Here are the headline stats that we should know and be aware of.
One of the most common goals of phishing is to get hold of login details.
85% of phishing attempts went after user credentials
20% of data breaches started with compromised user credentials
On average it takes approximately 250 days to detect breaches resulting from compromised user credentials
Frequency of attacks
According to the FBI, phishing attempts nearly doubled in 2020 compared to 2019
Phishing attack methods
96% of phishing attacks emerged from email
61% of companies deal with attacks via social media channels
65% of targeted attacks focus on spear phishing, often aimed at stealing the credintials of top executives
Cost of phishing attacks
The average ransom payment is around $200,000
Largest paid was $40m
Companies experience approximately 21 days of downtime
The #1 most damaging phishing attack of 2021 (so far)
Microsoft Office 365 (What we use here at Coos Bay School District) – Organizations using Office 365 were targeted by emails designed to bypass phishing safeguards.  They appeared to come from legitimate domains and encouraged users to enter their credentials.

---
What is this banner on my email about?
Our email system will add the banner above to any and all email that does NOT come from our school district.  So if you receive an email that claims to be from someone at the district and has an @coos-bay.k12.or.us email but has this banner, it is NOT from them or their @coos-bay.k12.or.us account.
PLEASE USE CAUTION with ALL email and SLOW DOWN.  Especially when they want you to click links, have attachments, or ask you to provide information.
---
Send passwords or any sensitive information via email.
Click on "verify your account" or "login" links in any email
Reply to, click on links in, or open attachments in an email unless it's from a known, trused, and verified sender.
Call a phone number in an unsolicited email or give sensitive data to a caller.
Be cautious about opening attachments, even from trusted senders.
Look carefully at the URLs of sites where you are being sent.
Look carefully at the full email address of senders.
Alert IT if you feel that an email is not safe.  We are happy to let you know one way or the other.
Everyone in our organization plays a role in making sure our information and networks are protected